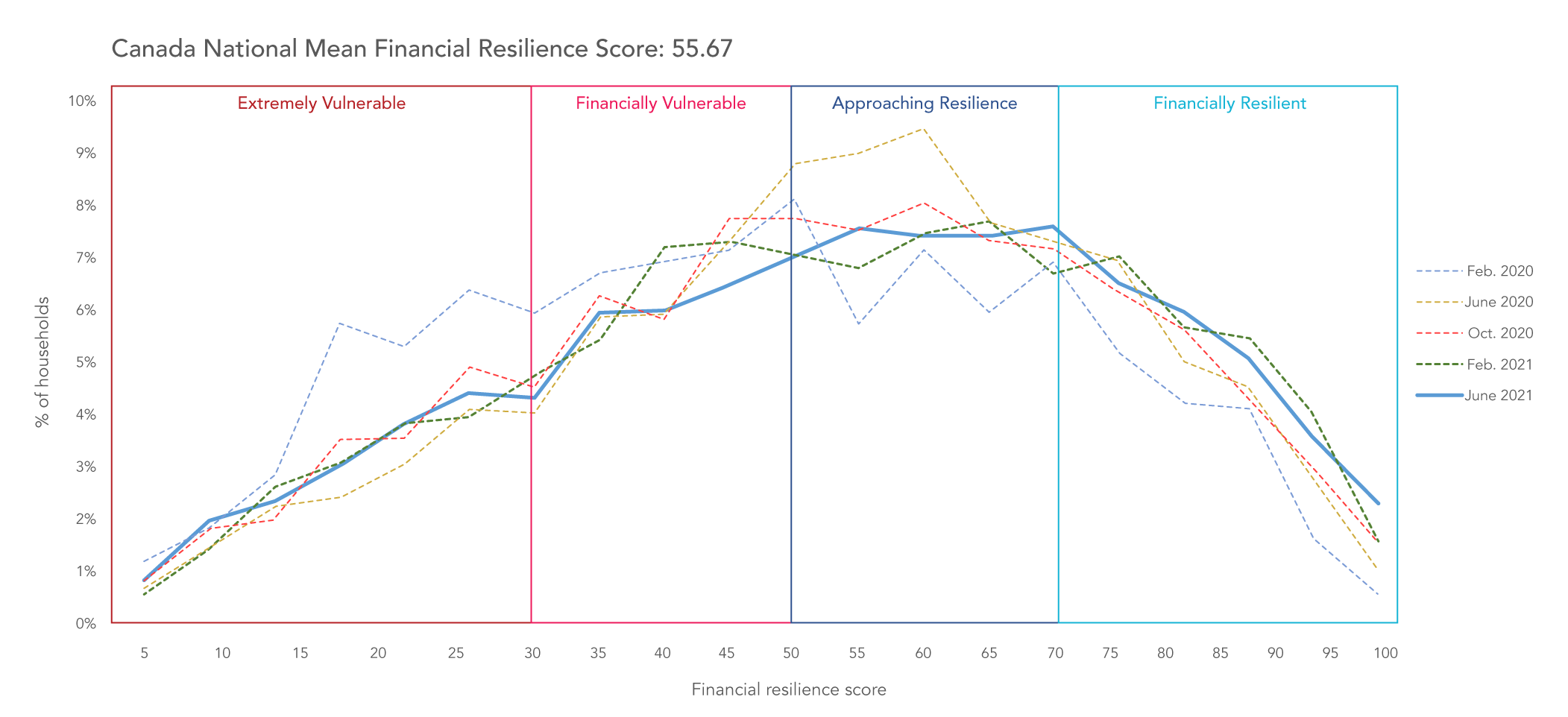 © Seymour Financial Resilience Index™. Seymour Management Consulting Inc. All rights reserved.
About the Seymour Financial Resilience Index

TM
What the Index Measures
The Seymour Financial Resilience Index TM measures a household's ability to get through financial hardship, stressors and shocks as a result of unplanned life events. It measures household financial resilience (and vulnerability) for Canadians and bank customers at the national, provincial, segment and individual household level,  across nine behavioural, sentiment and resilience indicators. Based on the June 2021 Index, the mean financial resilience score for Canada is 55.67.
The Index is a proprietary regression model that builds on five years of national longitudinal financial well-being data for Canada. The index is developed using data from the 2017-2021 Financial Well-Being studies, a 15-minute online survey conducted with 3000 to 5000 adult Canadians from a representative sample of the population by province, age, gender and household income, with respondents recruited through the Angus Reid Forum and all survey design and analysis conducted by Seymour Consulting. The Financial Well-Being studies were originally conducted annually from 2017 to 2019. As of 2020, the studies are currently conducted every four months. The studies and Index measure and track the financial resilience of tier one bank customers, and the extent to which financial institutions and other organizations are helping to improve the financial wellness of their customers at the national, provincial, segment and individual household level. 
Households' challenges in terms of access to financial products, services, information, support and advice are tracked for Canadians and specific populations, along with reported consumer and financial behaviours, financial and debt stressors and the extent to which financial stress impacts the overall well-being of households.
Seymour Consulting's national independent Financial Well-Being studies represent Canada's most robust, independent, longitudinal investigation into Canadians' financial well-being and the role Financial Institutions can play to help improve the financial wellness of their customers. Organizations are able to lever these studies with boost samples for their customers, and customized questions as needed to provide financial well-being insights and benchmark data against the Index.
The Index can be used by Governments to help inform its economic and social policies, including which households and communities need more targeted support through the pandemic and beyond. It can also be used by Financial institutions, lenders and and other organizations wanting to measure their current and prospective customers' financial resilience (and vulnerability) and/or create new Impact Measures and strategies for their organizations. complementing other customer and transactional data.
Financial resilience scoring can also be provided at the individual household level for organizations, and/or segment or benchmark data on specific segments such as homeowners with and without a mortgage; self-employed business owners, millennials, borrowers struggling with their debt, racialized Canadians or people from different household income groups.
Read Financial health reports published by Seymour Consulting here
Please contact us for more information or a consultation on how the Index and our services could support your organization.    
For more information on benefits for Financial Institutions, Governments and other organizations click here
Learn more about subscription to the Seymour Financial Resilience Index TM and other customized solutions and services.
Financial Institutions, Government and other organizations can apply the Index and Financial Well-Being studies data insights and our services to help measure, score and understand the changing financial resilience (and vulnerabilities) of their customers, portfolios, employees, citizens and communities – to inform strategies, innovation and programs at the enterprise, provincial, segment and individual household level. 
Index data and analytics can be combined with banking and transactional data, and insights combined with strategies and tangible action plans. This helps transform the way you engage, serve and support your customers from a holistic perspective and across the spectrum of daily financial management, saving planning and investing, debt and credit management and protection/ insurance.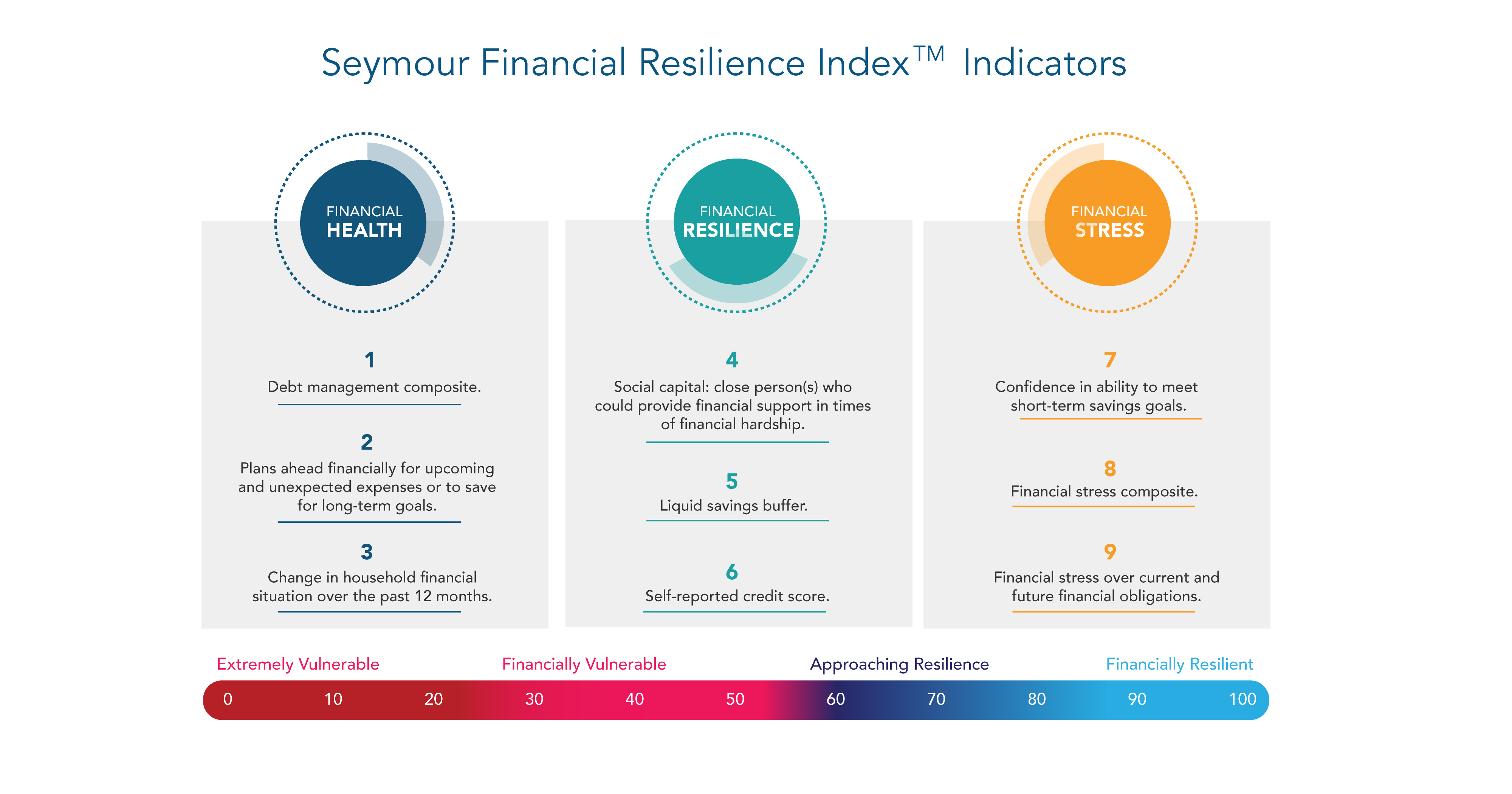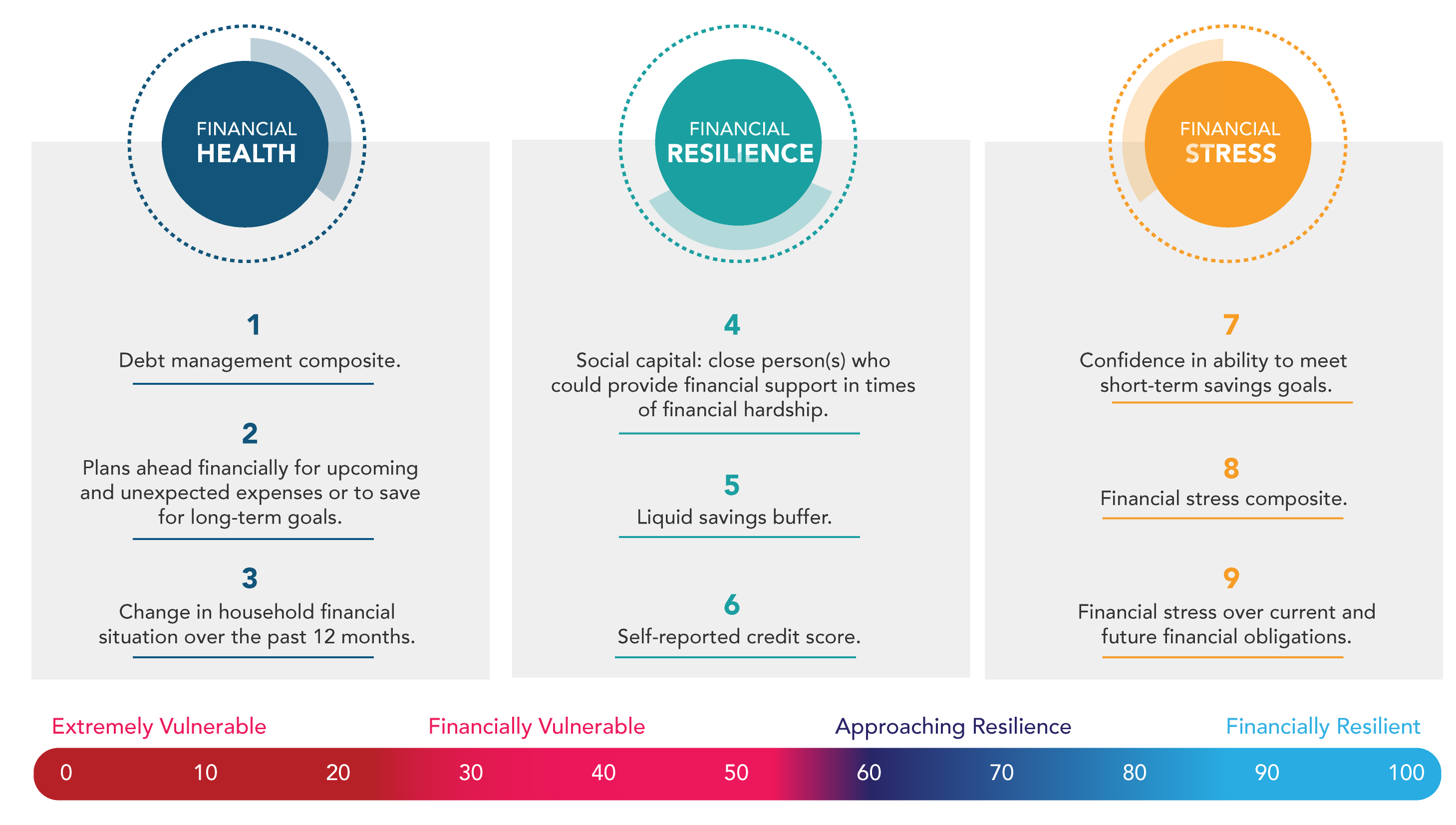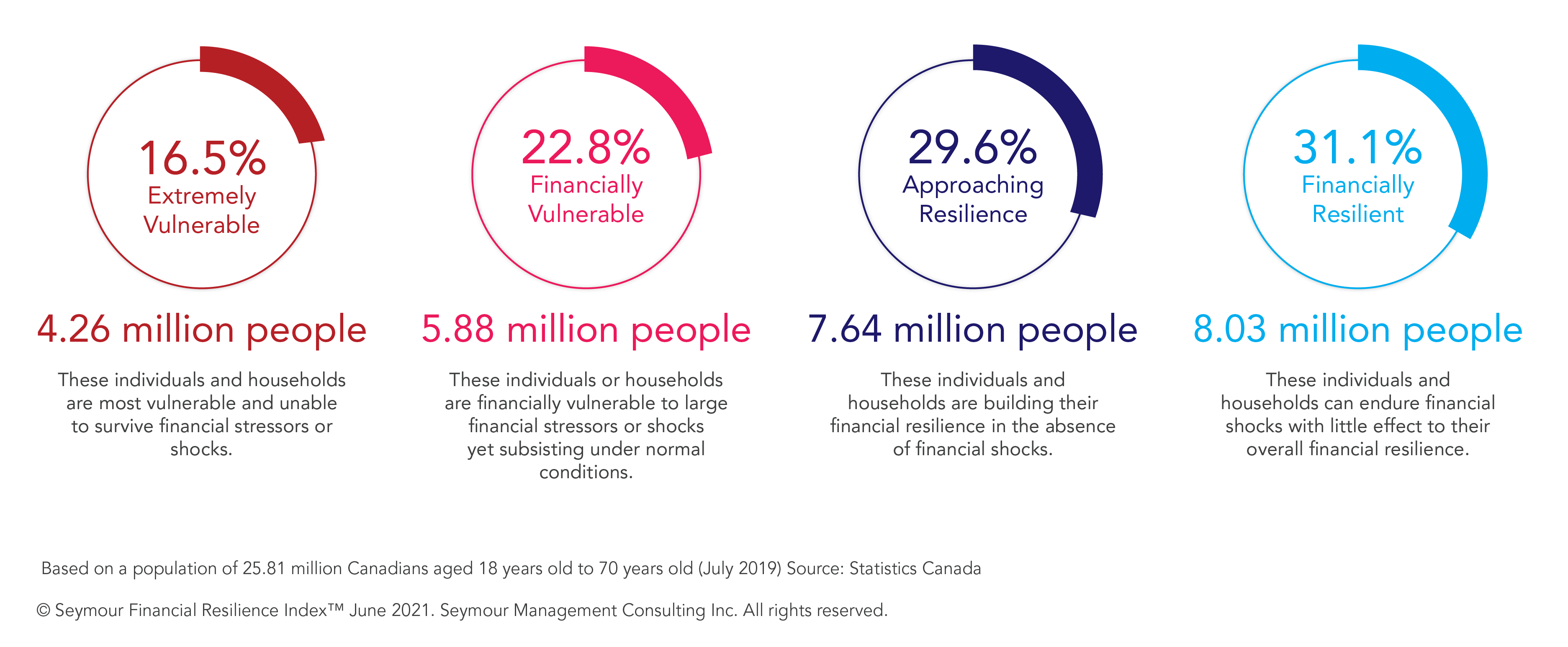 Index Development Process and Model 
The Index is a proprietary regression model developed through an iterative process to regressing and evaluating over 30 potential indicators against self-reported "financial resilience" or "financial stress" measures using the multiple linear regression technique. In the end, nine variables were determined to account for 57 percent of the variance in the financial resilience construct as of June 2021 and 64 per cent of the variance in the financial resilience construct as of February 2021. The regression model has indicators which are significant at a 95% confidence interval, meaning that their p-values are less than 0.05.
The regression model was validated against 2017, 2018 and 2019 survey data, which revealed consistency in results, represented both by a strong R-squared as well as similar weights of the independent variables as predictors of financial resilience. Note: weightings for the model are based on their overall contribution to the dependent variable in the model and are not equal. 
Based on 2017 and 2018 data, six out of the nine index model independent variables were available, and in the 2019 data 7 of the independent variables were available. All 9 variables including the composite variable are available based on the 2020 data for February 2020.                                                                                          There were four stages of index development and validation: 1] Identification of potential indicators 2] Data collection for Index development 3] Indicator selection and 4] Model Validation. For more technical information on the Index development process,  please Seymour Consulting.